Police Officer
Detective
Special Agent
Corrections Officer
Private Detective
Security Consultant
Public Defender
Legal Secretary
Probation Officer
Parole Officer
Lawyer
Paralegal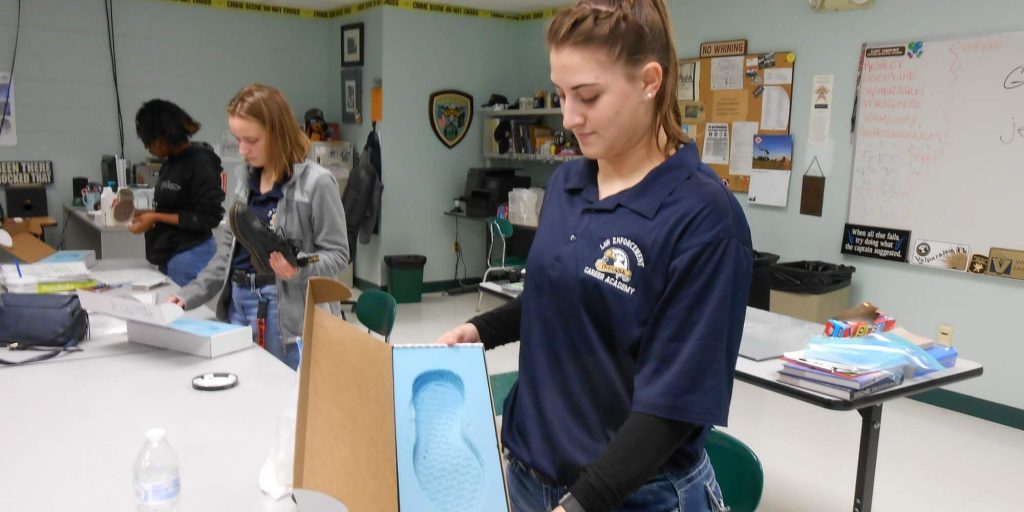 Criminal Justice II (Investigations)
Law Enforcement Careers Academy
If you are interested in pursuing a career in law, law enforcement, corrections, or a security profession, join the rank and file of the law enforcement careers academy today. There are two different classes you can sign up for either as a junior or senior. The Criminal Justice System class surveys the legal system and the various careers available. You will discuss and be exposed to the process from a suspect being questioned to the convicted being placed in prison. In the Criminal Investigations class, you will study evidence collection, interview techniques, and proper documentation. Each class invites numerous guest speakers and takes several field trips. Criminal Justice meets at Wheeler and Hobart High Schools.
In order to enroll, you should possess personal characteristics such as honesty, good judgment, integrity and a sense of responsibility. You may be eligible to earn college credits for the successful completion of each class.
Educational Opportunities
Vincennes University
Indiana State Police Academy
Indiana University Northwest
Ball State University
Valparaiso University
Ivy Tech Community College
H.S. and Career & Technical Education Graduate:
$7.50-$18.00/hr.
Additional Technical Training:
$18.00-$30.00/hr.