Firefighter
Paramedic
Wildland Firefighter
Fire Investigator
Private Public Safety Firms
The Military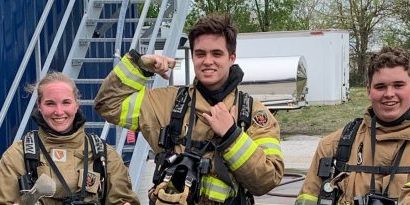 Want to help others on some of the worst days of their lives? People in towns large and small count on their volunteer and paid fire fighters in a variety of ways. This class at the state-of-the-art Multi Agency Academic Cooperative (MAAC) Emergency Services Training Facility, 4203 Montdale Dr., Valparaiso, will help you prepare with the physical and mental requirements to be a firefighter. You should, above all, be willing to help others. You should have sound judgment, strong moral values and respect for humanity. You should have the ability to communicate well through reading, writing and speaking. You should be 17 years old by May 15 of the year when you are in the course. You will need to provide a state-issued photo ID. You might want to pair this course with an EMS or law enforcement class while still in high school. Indiana State fire certifications may include: 1) Mandatory, 2) Firefighter I, 3) Hazardous Materials Awareness, and 4) Hazardous Materials Operations.
Educational Opportunities
Ivy Tech Community College
Prairie State College, IL
Vincennes University
Training opportunities at MAAC
H.S. and Career & Technical Education Graduate:
$9.98 - $12.75/hr.
Additional Technical Training:
$17.50 - $30/hr.