Registered Nurse
Home Health Aide/Certified Nurse Assistant
Phlebotomist
Dental Assistant/Hygienist
Physician
Emergency Medical Tech
Veterinary Tech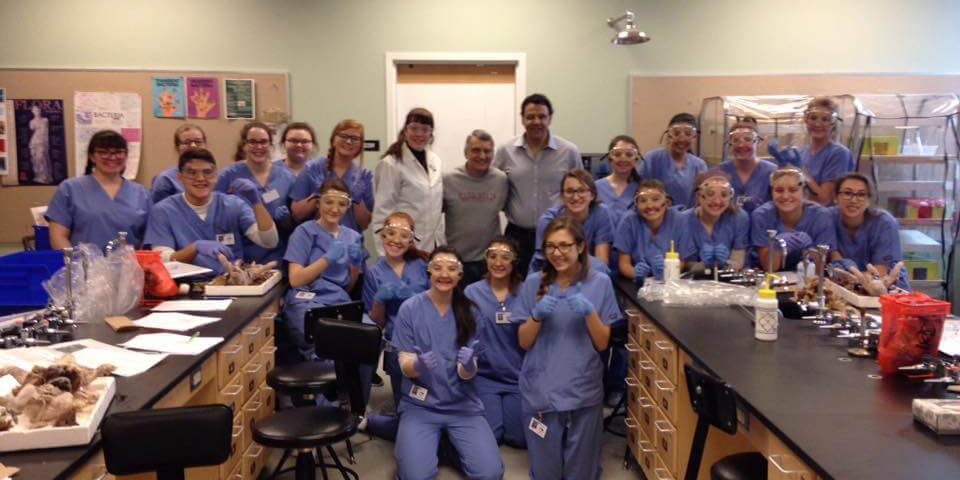 Health Science Education I (with Medical Terminology/Anatomy-Physiology)
College dual credit during high school.  Hands-on experiences in health care fields.
These are two attributes of this class, which can then lead to Health Science Education II, Fundamentals of Sports Medicine, Emergency Medical Services or Dental Careers.
This class will cover medical terminology while studying the normal structure and function of the human body. Each semester you will earn two elective credits plus one credit in anatomy/physiology – which counts toward any diploma as a science. You will do job shadowing and dissection labs. You will become a member of HOSA and exit the program with a workplace ready digital portfolio.
Can you stay calm during an emergency situation? Can you control your emotions in the event of an accident? Would you be able to help a stray dog needing assistance? Could you imagine working in a dental office? If the answer to any of these questions describes you, then you might be the perfect student to enroll in the Health Careers Class. Health careers are the fastest growing occupational area in the economy with a tremendous demand for trained employees.
Locations: PCCTC and Portage High School
Location: Career Center and Portage
Educational Opportunities
Vincennes University
Indiana Wesleyan University
Lincoln Tech (Melrose Park)
Ivy Tech Community College
Indiana State University
Marian College
Baker College
Purdue Northwest
Valparaiso University
IUPUI
Indiana University Northwest
Saint Francis College
University of Southern Indiana
H.S. and Career & Technical Education Graduate:
$7.50-$15.00/hr.
Additional Technical Training:
$10.50-$32.50/hr.