Landscape Architect
Pesticide/Herbicide Applicator
Irrigation Installer
Greenhouse Attendant
Nursery Attendant
Garden Center Sales Person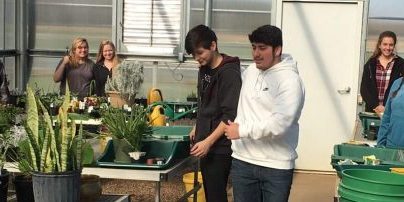 If you like working with plants and designing landscapes, then this is the career and technical program for you. An onsite greenhouse will give you hands on experience in areas of plant production, installation, marketing, and management of landscape plants and products. You will also learn to use Pro Landscape, the latest CAD software program to create landscape designs. You will enjoy extended field trips several times a month to explore all career areas and apply newly learned skills in landscape design and plant science.
Students can receive a Core 40 and Academic Honors Diploma Science credit for plant science in this program. They can also receive dual credit with Ivy Tech Community College.
Educational Opportunities
Purdue University
Vincennes University
Ivy Tech Community College
Ball State University
Indiana State University
Joliet Junior College
H.S. and Career & Technical Education Graduate:
$7.25-$10.50/hr.
Additional Technical Training:
$10.50-$19.50/hr.