Millwright
Heavy Equipment Repair & Maintenance
Engineering Technician
Hydraulic & Pneumatics Repair
Industrial Machinery Mechanics
And Many More…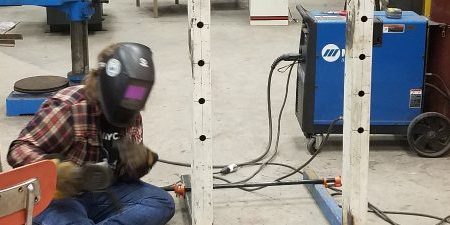 Sign up for the Industrial Mechanics course if you are interested in a welding or manufacturing career. You will spend about twenty-five percent of your class time learning the three basic welding processes, which include stick welding, wire welding and Tig welding. You will also learn to operate the plasma arc machines. Industrial mechanics install machinery, use precision measuring devices and operate complex tools, in a variety of manufacturing businesses. The industrial mechanic is the key problem solver in the workplace. Sign up for this class because it will give you a "jumpstart" in your manufacturing career.
Credits: First Year 6-8 credits/ Second Year 6-8 credits
Educational Opportunities
Valparaiso Area Apprenticeship Advisory Council – Portage
Indiana University
Ball State University
Purdue University
Specific Millwright Training Programs
Cooperative Educational Program with US Steel and Arcelor Mittal
NWI Carpenters or Millwright Union Apprenticeship
H.S. and Career & Technical Education Graduate:
$11.50-$12.00/hr.
Additional Technical Training:
$17.00-$35.00/hr.