We have a 92.97% job placement rate. Employers know our students and graduates have the skills to get the job done. Check out the listings below.

Experienced and Entry Level Electricians, CNC, Mechanics, Welders
Modern Forge, Merrillville
Modern employs over 650 people across five world-class manufacturing facilities, with over 25 production forge units, and two dedicated machining facilities for finished products and assemblies. The business is now run by the family's third and fourth generations.
FirstLight Home Care
FirstLight Home Care is family owned and operated doing business in Valparaiso, IN for seven years. We are a non-medical, private pay company. We are looking for kind, compassionate, caring, mature and responsible caregivers to join our growing team.
Bosak Chevrolet/Kia, Porter
Bosak Automotive Group has become synonymous with superior sales, selection and service. Their vision provides an exceptional car-buying experience. It's a vision that's always evolving as the family continuously seeks the most effective ways to better service their customers.
Pines Village Retirement Community, Valparaiso
At Pines Village, we pride ourselves on our culture, which is driven by a passion for serving the residents, visitors, and staff of Pines Village as well as the greater Valparaiso community. Yes, we work hard but the work we do is rewarding on so many levels. And we always make time for fun, laughs, and of course employee recognition.
MSI Express, Inc., Portage
MSI Express will empower you with opportunities to grow professionally, become your best, and make a real impact on our business and that of our customers. As we continue to grow, there are no limits to what we can accomplish together. If you're looking for a career where you are heard, respected, trusted, and valued, we encourage you to check out our job openings and apply.
Pharmacy Automation Technician
In Touch Pharmaceuticals, Valparaiso
In Touch is looking to add a pharmacy automation technician to our team. As our first point of contact,
you have a 1-on-1 relationship with the users who rely upon our systems to deliver medication across
the state. You act as our end users advocate within the IT Team and consider their problems to be your
problems.
South Side Control Supply Co., Chicago
Are you mechanically inclined and like tackling technical problems? Do you like working with your hands and using your brain even more? When you walk into a building do you notice the thermostat on the wall? We are looking for someone that is passionate about controls. Burner controls, rooftops, air handlers, steam, lighting, hydronics, refrigeration you will see it all here. If you like solving challenging problems, constantly improving your knowledge and working with phenomenal customers, then a career at South Side Control Supply Co. is for you.
Care 4 Soul, Schereville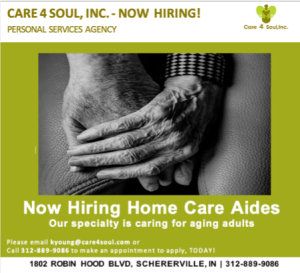 Leo's Mobile Bicycle Service
We are looking for an enthusiastic, motivated person to add to our team. Basic mechanical skills and/or specific bicycle knowledge desired but not required. People skills are a must as we work with the public every day. Availability on Saturdays is required. The position is part-time and will be flexible with school schedules.
Contact Leo Frey via email at [email protected] or call/text 219-246-2504 to set up a time to talk in person. If emailing, please include a brief cover letter stating your qualifications and why you would like to work at Leo's.