Gain skills and knowledge to accurately diagnose, repair and service various automotive vehicles.
GRADE: 11 & 12 | DUAL CREDIT OPTION
If you enjoy having a talent that few people have and want to know how cars and light duty trucks work, then sign up for this hands-on program. This program will give you the opportunity to work on vehicles and give you a basic understanding of the new technologies and principles necessary to perform repairs on your own vehicle or to prepare for a career in the auto industry. Area businesses are eager to hire bright young people for employment and for apprenticeship programs. Many students have won scholarships for higher education as a result of participating in this program. You should have strong communication and computer skills and be task oriented to be successful in this program.
Multiple dual college credits are available through Ivy Tech
EDUCATIONAL OPPORTUNITIES
Specialized Factory Training Courses
Vincennes University
Ivy Tech Community College
Universal Technical Institute
Lincoln Tech
Baker College
University of Northwestern Ohio
Nashville Auto/Diesel College
Northwestern Auto/Diesel Tech
ASE/AEF Curriculum
IDEM Emissions Training
Auto Service Technician
Parts Counter Sales
Alternative Fuel Technician
Auto Shop Owner
Automotive Engineer
And Many More…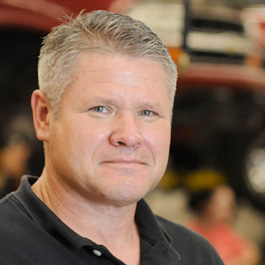 ROB BARNES
WILLOWCREEK MIDDLE SCHOOL
Mr. Barnes is an ASE Master Certified Technician who is currently in his 11th year of teaching. He is also a former Career and Technical Education student who has had 34 years of on-the-job training as well as extensive training through Carquest, Hunter Equipment Advanced Wheel Alignment School and aftermarket parts manufacturing workshops. He attended Purdue North Central, taking classes in mechanical engineering. When discussing his work experience, Mr. Barnes notes, "My entire career has always been in the automotive repair industry. I have worked at specialty shops, franchised tire and wheel alignment centers and fleet vehicle maintenance sites." The majority of his career he spent working at an independent repair facility repairing and maintaining foreign and domestic automobiles and light trucks. "I have served as a mentor to new techs entering the industry and have served as a shop foreman and service advisor." During the past 11 years, he has had many students enter the auto repair industry in entry level positions as well as several who have pursued post-secondary degrees at technical schools. His life interest is in classic and antique car restoration, and he has many project vehicles. He is an avid motorcyclist and owns two antique bikes. His other lifelong passion is music, and he is a semi-professional musician.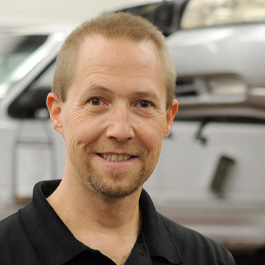 MARK FURRY
CAREER CENTER
Mr. Furry is an ASE Master Certified Automotive Technician who has been teaching for three years. He studied at Moraine Valley Community College. He brings 30+ years of experience working on automobiles, large trucks and heavy equipment. Hot rods and custom cars are his passion. He enjoys all types of racing, especially demolition racing. His hobbies include RC cars and trucks, model car building, movies, camping, hiking, hunting and target shooting.