CAD (COMPUTER AIDED DESIGN) & ANIMATION
Digitally create 2D drawings and 3D models of real-world products before they're manufactured.
GRADE: 11 & 12 | DUAL CREDIT OPTION
If you're interested in Architecture, Mechanical Design or Animation, then this 1 or 2 year program will help prepare you for a future career. Whether your interest is designing a concept car, creating a video game, or constructing a dream home, CAD designers are needed. Students will make detailed drawings, part models and animations to show exact dimensions and specifications of a project. While using state of the art software and even 3D printers for these designs, students will earn college credit. Whether your desire is to work immediately after high school, or work while you're in college, this program will help you accomplish this goal.
Students can receive Core 40 and a Technical Honors Diploma science credit.
Students enrolled in this course are also eligible for dual credits through Ivy Tech Community College.
EDUCATIONAL OPPORTUNITIES
Purdue University
Ball State University
Indiana Institute of Technology
Indiana State University
Ivy Tech Community College
Vincennes University
Architect
Landscape Architect
Interior Designer
Mechanical Drafter/Designer/ Engineer
3D Animator
Video Game Designer
And Many More…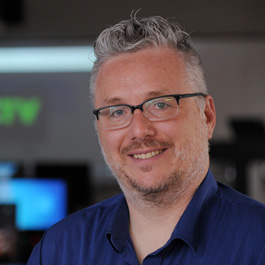 BILL GUINEE
CAREER CENTER
Mr. Guinee has his bachelor's and master's degrees from Purdue Northwest. He worked for many years as a CAD designer and has brought that experience to the classroom for the past 20 years. He makes his classroom fun and exciting! On a personal note, he enjoys PC gaming, pinball, classic cars and PC planes.
My son Caden is in his 2nd year in the CAD program. He will graduate in 2021, and will pursue an Engineering degree. The 18 dual credits he will have from this program has set him apart from other students. As he spoke to professors and deans on school visits, they were amazed with his knowledge and software skills. They said he has a HUGE advantage to other incoming students, and he is set to get a great first year internship. He looks forward to vocational class every day, and hates ever having to miss it.