This is the process that removes excess, raw material and creates a finished product, shaping large pieces of material into more precise parts.
GRADE: 11 & 12 | DUAL CREDIT OPTION
If you have an interest in a manufacturing career, you should check out the Modern Machining Technology class. You will learn basic machining techniques, computer controlled machining (CNC), computer aided design and machining (CADCAM), quality control processes and basic mechanics. At the completion of the program, you will be prepared for a career in machining or a step ahead at any engineering major at college and advancement to an apprenticeship. You can earn dual credits in college by participating in this program. Part time work study internships are also available. Sign up today.
EDUCATIONAL OPPORTUNITIES
Indiana University
Vincennes University
Purdue Northwest
Apprentice Schools
Ivy Tech Community College
Machinist
Machine Operator
CNC Programmer 
CADCAMCNC Engineer
Tool & Die Maker
Mold Maker
Mechanical Engineer
Manufacturing Engineer
Industrial Maintenance & Repair
And Many More…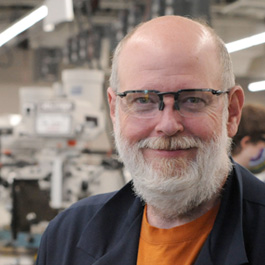 GREG CARMACK
CAREER CENTER
Mr. Carmack has his AAS in Machining from Iowa Western College and also attended college at Wichita State University, Indiana University South Bend and Vincennes University. He is also a certified NOCTI Instructor. He worked in the manufacturing field for 20 years prior to coming to Career and Technical Education. He has been employed as a machinist, CADCAMCNC Engineer, Manufacturing Engineer, Manufacturing Supervisor, Quality Assurance Tech, and Quality Manager. He specialized in CACAMCNC and data statistics. He has worked in places where he has made parts for fighter jets, the space shuttle, aerospace and defense, the automotive industry, custom car parts and wheels and parts for lawn mowers and antique farm machinery. His hobbies and interests include machining and CADCAM, making unique parts out of various materials, photography and motorcycle riding.