SPORTS MEDICINE & ATHLETIC TRAINING
Focusing on helping improve athletic performance, recovery from injury and prevention of future injuries.
Sign up for Sports Medicine & Athletic Training if you'd like a hands-on class that will teach you techniques to help others prevent and treat sports injuries. You might find yourself going on to be an athletic trainer, physical therapist or other health care professional by earning the appropriate college degree(s). Students in the class learn about anatomy, first aid, CPR, vital signs, and the prevention and treatment of sprains, strains and other ailments. They get an opportunity to work side-by-side with a certified athletic trainer and get a chance to decide if this is the field for them. Employment of athletic trainers is projected to grow 16 percent from 2019 to 2029, much faster than the average for all occupations. Demand for athletic trainers is expected to increase as people become more aware of the effects of sports-related injuries, and as the middle-aged and older population remains active.
EDUCATIONAL OPPORTUNITIES
Anderson University
Franklin College
Indiana University
Purdue University
Ball State University
Manchester College
Athletic Trainer
Occupational Therapist
Physical Therapist
Physical Therapy Assistant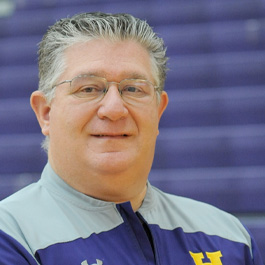 MARK LETO
HOBART HIGH SCHOOL
Mr. Leto studied at Ball State and has credentials in MAE, LAT, and ATC. He has been teaching for 24 years. He brings experience to the classroom as a trainer with the Indianapolis Colts, USA Olympics, Division 1 Football as a Medical Observer and is a Preceptor for Master's Degree Athletic Training Students. In his spare-time he enjoys reading, flying with his son and hunting.
JILL STRUBLE
HEBRON HIGH SCHOOL
Mrs. Struble earned a Bachelors of Science in Athletic Training from The Ohio State University and a Masters of Science in Medical Sciences at the University of South Florida (USF). She has been a Certified Athletic Trainer since 2008 and has worked at various locations before entering the teaching world in 2023. Mrs. Struble has experience at the D1, D2 and D3 college levels, private and public middle school/high schools from rural to inner city settings along with outpatient rehab facilities.  In her spare time, Mrs. Struble enjoys camping with her husband and 3 kids along with watching her kids at their sporting events.