The science and art of producing edible fruits, vegetables, flowers, herbs, and ornamental plants; improving and commercializing them.
GRADE: 11 & 12 | DUAL CREDIT OPTION
An on-site greenhouse will give you hands on experience in the areas of plant production, installation, marketing and management of landscape plants and products.
You will also learn how to use Pro Landscape, the latest CAD software program, to create landscape designs and enjoy extended field trips several times a month to explore all career areas and apply newly learned skills in landscape design and plant science.
Students can receive Core 40 and Technical Honors Diploma science credit for plant science in this program. Students enrolled in this course are also eligible for dual credits through Ivy Tech Community College.
EDUCATIONAL OPPORTUNITIES
Purdue University
Vincennes University
Ivy Tech Community College
Ball State University
Indiana State University
Joliet Junior College
Landscape Architect
Pesticide/Herbicide Applicator
Irrigation Installer
Greenhouse Attendant
Nursery Attendant
Garden Center Sales Person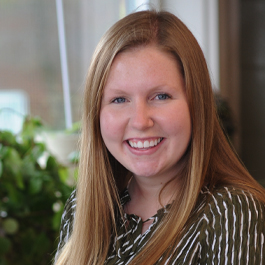 RACHEL STONER
MORGAN TOWNSHIP HIGH SCHOOL
Ms. Stoner is in her first year of teaching. She studied Agriculture at Purdue University with a BS in Agriculture Education and minors in Crop Science and Animal Science. She is passionate about using agriculture as a way to help students grow personally, academically, and professionally. She notes, "as we work towards learning and growth in my classroom – relationships, community, and teamwork are continually being cultivated in order to push us all towards a deeper understanding of the world around us." She holds memberships in the: National Association of Agricultural Educators, Indiana Association of Agricultural Educators and serves on the Porter County Junior Fair Board. She did her student teaching at South Central High School where she earned the Indiana Association of Career and Technical Education – Outstanding Future Educator Award. She has completed internships with Sound Agriculture as a Field Intern and Cargill Animal Nutrition as a Retail Sales Intern. In her spare time she loves to run, hike, garden, and be outside, reading whilst in her hammock.