COSMETOLOGY PROFESSIONAL SERVICES
Skills and training in the cosmetic treatment of the skin, hair and nails.
GRADE: 11 & 12 | DUAL CREDIT OPTION
Due to 21st Century advertising trends, fashionable looks for both men and women will remain of great importance. Although styles will change, a cosmetologist's task will remain the same…to help people look attractive. As a service professional, you will be shampooing, cutting, styling, straightening, perming, and coloring hair; giving manicures; providing scalp and facial treatments; and furnishing makeup analysis. At the end of this program, you will be eligible to take the Indiana State Beauty Board Examination. You need to pass ISTEP or receive a GED before you will be recommended for the Indiana Cosmetology license examination.
EDUCATIONAL OPPORTUNITIES
Specialized training offered at private schools
Manufacturer-sponsored workshops, seminars, and conferences
Hair Stylist
Makeup Artist
Beauty School Instructor
Manufacturer Representative
Nail Technician
Salon Owner
And Many More…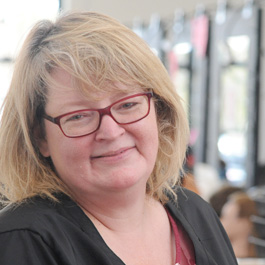 SUZIE FITTS
CAREER CENTER
Mrs. Fitts has been a licensed Cosmetologist for more than 30 years. She is also a licensed Cosmetology Instructor and has been teaching for three years. She attended North Central Beauty Academy and Prestige College of Beauty. During her professional time, she has expanded her skills to keep up with the beauty trends including perms, color techniques, haircuts, styles and more. She also has had the privilege of working with teenagers over the past 11 years through her church, in the community and in the school system. She enjoys helping students advance on many levels, including the field of cosmetology. Besides helping others feel good about themselves, Mrs. Fitts also enjoys spending time with family, reading and writing.
I own a salon & day spa. My daughter Lexi attended her 2nd year of beauty school at the Career Center; she graduated in 2019. I can honestly tell you what a relief it was to have her in your program. Miss Suzie really took a great interest in her education. I cannot express enough how grateful we were. This is truly such a nice program.